Rubber & Rolled Roofs
Rubber Roofing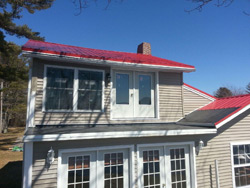 Rubber roofing is usually used on covered patios or a flat roofs. Benefits to having applied a Rubber Roofing System, it will completely waterproof your home. This is important since flat roofs tend to leak easier. Easy installation and to repair, fire resistant, Energy Efficient, allowing you to keep cool in the summer and will help warm your home during the winter season.
Fowler's Roofing will look at your roof with thoughtful planning of the layout and take careful measurements for the materials. After stripping away your old roofing and materials from the surface, we apply 1/2 inch fiberboard with screw and plate system, drip edge, glue then apply rubber 60 ml seam. Then seal all seams with rubber roof adhesives
Rolled Roofing
Asphalt roll roofing is commonly used for flat roofs. The material is based on the same materials used in asphalt shingles; an organic felt or fiberglass mat, saturated with asphalt and faced with granular stone aggregate. It is thinner and applied in long strips. It's use is restricted to roofs with a pitch less than 2.12 or less.
Fowler's Roofing does a full inspection of your chimney while working on your roof. At the end of your job we do a complete clean up and inspection. Clean up includes your yard and landscaping, we also use a magnetic sweeper to pick up any loose nails and haul off all old material from the work site. Fowler's Roofing is fully insured and offers a 24 hour emergency service serving the state of Maine. We also include a 5 Year warranty on labor.
Please feel free to drop by our Office / Showroom located at 672 River Road Chelsea, Maine 04330
OFFICE HOURS: Mon-Thurs 8am-5pm, Fri 8am-4pm, & Sat 8am-noon.